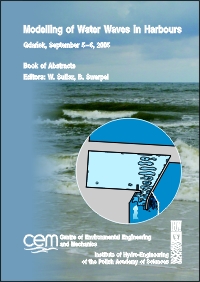 Sulisz W., Swerpel B.
Modelling of water waves in harbours. Book of abstracts
wydawca: Wydawnictwo IBW PAN
ISBN: 8385708677
rok wydania: 2005
język: en
Streszczenie: Projektowanie portów wymaga wielu informacji dotyczących procesów wzmocnienia falowania, rezonansu falowego oraz oddziaływania falowania z budowlami. Większość z takich danych można obecnie uzyskać na drodze modelowania numerycznego. Instytut Budownictwa Wodnego Polskiej Akademii Nauk (IBW PAN) w Gdańsku posiada ponad czterdziestoletnie doświadczenie w modelowaniu zjawisk falowania w portach i brał udział w projektowaniu prawie wszystkich polskich portów.Dwudniowe warsztaty organizowane są przez Centrum Doskonałości (Centre for Environmental Engineering and Mechanics, CEM, projekt EVK3-CT-2002-80009), przyznane Instytutowi Budownictwa Wodnego PAN przez Dyrektoriat do spraw Badań Naukowych Komisji Europejskiej w Brukseli. Program seminarium obejmuje zasadnicze aspekty modelowania falowania w portach, począwszy od generacji fal wiatrowych, poprzez procesy odbicia i dyfrakcji, do modelowania zjawiska falowania i rezonansu w porcie o dowolnym kształcie. Wykłady będą prowadzone przez zaproszonych specjalistów europejskich oraz naukowców z IBW PAN.
---