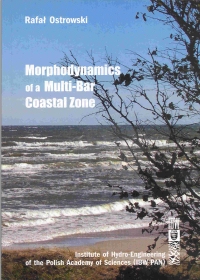 Rafał Ostrowski
Morphodynamics of a multi-bar coastal zone
publisher: Wydawnictwo IBW PAN
ISBN: 8385708642
published in: 2004
language: en
Summary: The book comprises the description and experimental verification of a new mathematical model of sediment motion on a multi-bar shore profile and the variability of this profile. In the model, accuracy in determination of resultant sediment transport at each location of the shore profile plays a key role in the description of coastal morphodynamics. The computed sediment transport rates depend on correctness of theoretical representation of wave transformation on a sloped (multi-bar) sea bed, as well as on proper modelling of wave-induced currents.
In the monograph, wave-current interactions in the nearbed layer give rise to resultant sediment transport rate, which is principally dependent on a very delicate imbalance between an onshore flow caused by vertical asymmetry of wave shape and the wave-driven return current directed offshore. An attempt has been undertaken to prove the fundamental thesis of the present work, according to which the cross-shore sediment transport rate, resulting from wave asymmetry, is modified quantitatively and even qualitatively (sediment motion opposite to wave propagation) by influence of the offshore directed undertow.
The theoretical results have been verified against the experimental data from literature, the laboratory data collected in IBW PAN wave flume and the field data registered at the Coastal Research Station in Lubiatowo. A part of the book is devoted to solution of practical problems encountered in coastal engineering. The present monograph shows that a big progress has been achieved in the realm of coastal dynamics. This progress indicates the directions of further research.
---