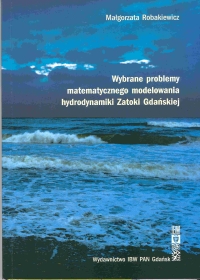 Małgorzata Robakiewicz
Wybrane problemy matematycznego modelowania hydrodynamiki Zatoki Gdańskiej
publisher: Wydawnictwo IBW PAN
ISBN: 8385708634
published in: 2004
language: pl
Summary: In this book, some chosen problems in modelling hydrodynamics in the area where water motion is induced by randomly varying forcing, are presented. Using the Gulf of Gdańsk, a part of the Baltic Sea from which the analysed area it is limited by the open boundaries, the consequences and difficulties in numerical modelling of such areas, are presented. Mathematical modelling, enables representation of water dynamics in regions of different characters and under various hydro-meteorological conditions. Application of model results is especially requested in all those situations where observations are scarce, not precise enough, or require very high costs to carry out them. Only after confirmation of the requested accuracy of results, is it possible to apply such data in engineering practise. In this book, is discussed not only the availability of in situ data, but also problems related to model calibration and verification. It is shown that using simple statistical measures it is possible to compare field data with model results not only qualitatively, but also quantitatively. Using the proposed criteria it is possible to estimate the accuracy of representing field data by the model, and as a consequence, estimate model applicability for the forecast purposes.
---