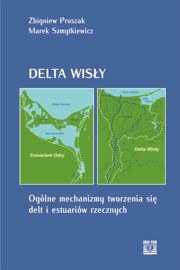 Zbigniew Pruszak, Marek Szmytkiewicz
Delta Wisły: ogólne mechanizmy tworzenia się delt i estuariów rzecznych
publisher: Wydawnictwo IBW PAN
ISBN: 9788385708797
published in: 2015
language: pl
Summary: The main part of the book features a synthetic compendium of state-of-the-art knowledge on the Vistula River Delta in Poland. Simultaneously also provides description of key mechanisms and processes underlying the formation and evolution of selected estuaries in the world, taking account of various spatiotemporal scales, including the geological one. In this context, the monograph provides a general knowledge on funnel and deltaic estuaries and estuarine processes with a more detailed focus on the delta of the River Vistula. The historical processes that have been shaping the Vistula delta are tightly connected with engineering ventures undertaken there. That is why the monograph also contains information on engineering practices in the Vistula Delta aimed at flood protection of highly urbanized areas. These are the agglomeration of the city of Gdańsk and the agriculturally important area of the Vistula Delta known as Żuławy. Another interesting topic covered in the book is a highly dynamic alluvial fan located opposite the main branch of the delta, which is a very peculiar and noteworthy feature. The monograph combines scientific and popular elements, enriched with numerous illustrations. This should make it interesting not only for professional readers dealing with estuarine processes, but also for lay people wishing to learn about the natural world. The book consists of three main chapters. The first provides a synthetic description of the key features and mechanisms of the formation and evolution of deltaic and estuaries systems under various environmental conditions of the world. The second is devoted exclusively to the Vistula River Delta and to various natural phenomena occurring there. This chapter also covers anthropogenic factors that contribute to the spatiotemporal evolution of the Vistula River Delta. Chapter 3 provides a short discussion and summary of issues covered in the book. Two separate sub-chapters synthetically present the general knowledge on issues and topics related to deltaic river mouths and estuaries in the world. They also contain a more detailed coverage of problems faced by the Vistula River Delta.
---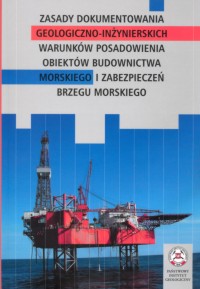 Zbigniew Frankowski, Marek Graniczny, Bożena Juszkiewicz-Bednarczyk, Regina Kramarska, Zbigniew Pruszak, Piotr Przezdziecki, Marek Szmytkiewicz, Maciej Werno, J. Zachowicz
Zasady dokumentowania geologiczno-inżynierskich warunków posadowienia obiektów budownictwa morskiego i zabezpieczeń brzegu morskiego
publisher: Państwowy Instytut Geologiczny - Państwowy Instytut Badawczy
ISBN: 9788375384116
published in: 2009
language: pl
Summary: Podręcznik powstał na zamówienie Ministerstwa Środowiska i składa się z 11 rozdziałów oraz zestawienia literatury, norm oraz ustaw i rozporządzeń. Głównym zadaniem podręcznika jest określenie podstaw dla prowadzenia badań geologiczno-inżynierskich w celu prawidłowego posadowienia obiektów lokalizowanych w strefie brzegowej i na pełnym morzu. Rozdział 2 przedstawia obszerną charakterystykę rzeźby dna morskiego oraz osadów występujących na brzegu morza oraz w obszarze morskim obejmującym Polską Wyłączną Strefę Ekonomiczną. W rozdziale tym znajdują się liczne informacje dotyczące charakterystyki warunków geologiczno-inżynierskich pozwalające na wstępną ocenę warunków posadowienia konstrukcji morsko-brzegowych, jak również zanieczyszczeń osadów dennych w różnych akwenach. Rozdział 3 poświęcony jest podstawowym procesom hydro- i morfodynamicznym, które zachodzą w strefie brzegowej. Zawarta w tym rozdziale wiedza stanowi podstawę do oceny oddziaływania środowiska morskiego na brzeg morski, a więc daje możliwość przewidywania skutków działalności człowieka realizującego określone przedsięwzięcia hydrotechniczne. Rozdziały 4 i 5 związane są z szczegółową charakterystyką budowli morskich występujących w portach, stoczniach, na brzegu morskim i na pełnym morzu. Przedstawione opisy pozwalają na ocenę danych o podłożu i warunkach środowiskowych, jak i ocenę wpływu posadowionych tam budowli hydrotechnicznych na otoczenie, a szczególnie na strefę brzegową. W rozdziale tym poświęcono również sporo uwagi budowlom pełnomorskim w tym głównie platformom morskim i rurociągom podmorskim. Rozdział 6 dotyczy geotechnicznej klasyfikacją gruntów według różnych norm czy przepisów. Rozdział 7 poświęcony jest badaniom geologiczno-inżynierskim. Jest to część podręcznika, która ma szanse być często wykorzystywana w praktyce inżynierskiej w odniesieniu do budownictwa morskiego czy też budownictwa realizowanego w warunkach morskich. Kolejne dwa rozdziały mają charakter rozdziałów informacyjnych, a mianowicie dotyczą zagospodarowania polskich obszarów morskich (Rozdział 8) oraz monitoringu strefy brzegowej (Rozdział 9). Rozdział 10 powinien być interesujący tak dla pracowników naukowych, jak i projektantów oraz wykonawców. Przedstawione przykłady zrealizowanych w ostatnich latach budowli morskich, a szczególnie ich pełne udokumentowanie z punktu widzenia przeprowadzonych badań geologiczno-inżynierskich, stanowić mogą dobrą podstawę nie tylko dla przeprowadzenia określonych analiz w zakresie posadowienia omawianych obiektów, ale również do krytycznej analizy, umożliwiającej dokonanie bardziej dokładnej oceny potrzeb w zakresie badań geologiczno-inżynierskich w przypadku projektowania szerokiego wachlarza budowli morskich. W kolejnym, ostatnim rozdziale zestawione są przepisy obowiązujące w budownictwie morskim.
---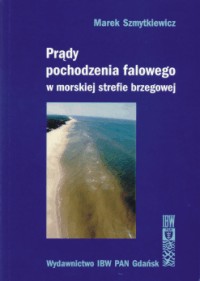 Marek Szmytkiewicz
Prądy pochodzenia falowego w morskiej strefie brzegowej
publisher: Wydawnictwo IBW PAN
ISBN: 8385708456
published in: 2002
language: pl
Summary: The book presents the description of mechanisms of generation of wave-driven currents, i.e. the currents induced by breaking waves, the energy of which is partly transmitted to the steady flow. In the description, particular attention has been paid to longshore currents and return currents, constituting two systems of flows which fundamentally control sediment transport rates, evolution of the cross-shore profile and the shoreline. As a result of studies and analyses, the Author presents his mathematical models of wave-driven currents and complete blocks of the Author`s numerical programs. Comparison between calculated and measured wave heights and flow velocities show good compliance between the theory and experiments, independently of sea bed shape, for both short waves at the Baltic and ocean long waves.. These numerical programs, together with other computational blocks, they constitute a global model called SAND94. The model in a complex way treats the entire sequence of physical processes occurring in the coastal zone, starting from prediction of wind waves, through wave transformation and generation of the currents, to sediment motion and related shore evolution. The model SAND94 have been compared with three similar, world famous numerical packages, namely the American-Swedish GENESIS, the Danish LITPACK and the Dutch UNIBEST. The computations by these models in various time - spatial scales for shoreline at Władysławowo show that the results by SAND94 are at least such accurate as the output by the other considered models.
---